The diamond industry is not often credited for its efforts to protect the natural world and support its people and communities, even though there are many in the sector who are proactive in building a sustainable future for our planet and its inhabitants.
Trucost ESG Analysis, part of S&P Global, recently undertook a comprehensive analysis of the socioeconomic and environmental impact of seven of the world's largest diamond producers. In its report titled 'The Socioeconomic and Environmental Impact of Large-Scale Diamond Mining', Trucost found that large-scale diamond producers inject billions of dollars in benefits back into communities, offer higher than national average wages and work hard to minimize their environmental impact.
As an industry leader, De Beers has long since been synonymous with diamonds. Today, De Beers continues to raise the standard in ethical and responsible practices across the industry with a comprehensive set of initiatives. 'Building Forever' sets out to build a positive and lasting legacy across a range of economic, social and environmental aspects. From "Moving Giants", a project to relocate elephants from overpopulated areas to designated conservation areas, to supporting women in local communities to develop businesses, De Beers works closely with communities to support gender equality, female financial resilience, learning and conservation.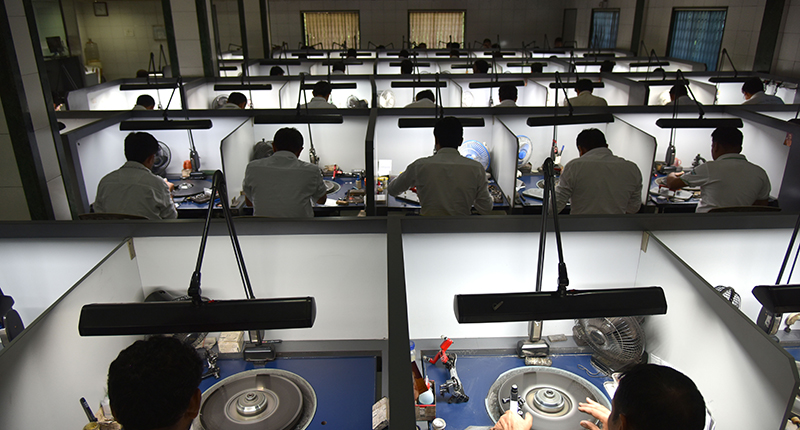 Star Rays, one of India's preeminent diamond manufacturers, is leading the charge among diamond cutting and polishing firms. Social responsibility and environmental protection are top priorities for Star Rays. Star Rays is convinced that sustainable growth can be achieved through the development and well-being of its employees and their families, business partners, the local community and the environment.
Carbon neutrality is just one of a number of initiatives that Star Rays has adopted. This has helped to cement its reputation as an environmentally and socially conscious company. Underlining its commitment to sustainable business practices, Star Rays is determined to become India's first carbon-neutral diamond manufacturer. Star Rays is collaborating with Carbon Expert, a carbon consultancy firm that has developed processes and best practices to help companies become carbon neutral in accordance with the Greenhouse Gas Protocol Corporate Accounting and Reporting Standard. Star Rays is also participating in the World Jewellery Confederation's Greenhouse Gas Measuring and Offsetting Initiative to ensure that its carbon emissions and removals are measured in accordance with international standards.
In addition, Star Rays is determined to give back to the communities in which it operates. It does so by organising and funding a range of education and healthcare initiatives, as well as a firm commitment to safeguarding the well-being of its employees. Star Rays wants its workforce to be happy, healthy, fulfilled and spiritually strong. To this end, Star Rays sponsors annual health check-ups for all employees and provides amenities to promote their welfare, such as gym facilities, yoga classes, meditation retreats, team building, and fitness events.
Most recently, Star Rays hosted a women's empowerment workshop for all its female employees. The aim of the workshop was to raise awareness, as well as educate and motivate the female workforce to catalyse positive change in their lives, wider communities and diamond industry. Star Rays firmly believe that gender equality and the full participation of both men and women are vital for the sustainable development of a country. Female empowerment is therefore part of Star Rays' wider commitment to effect social change in order to shape a more fair, equal and sustainable tomorrow.